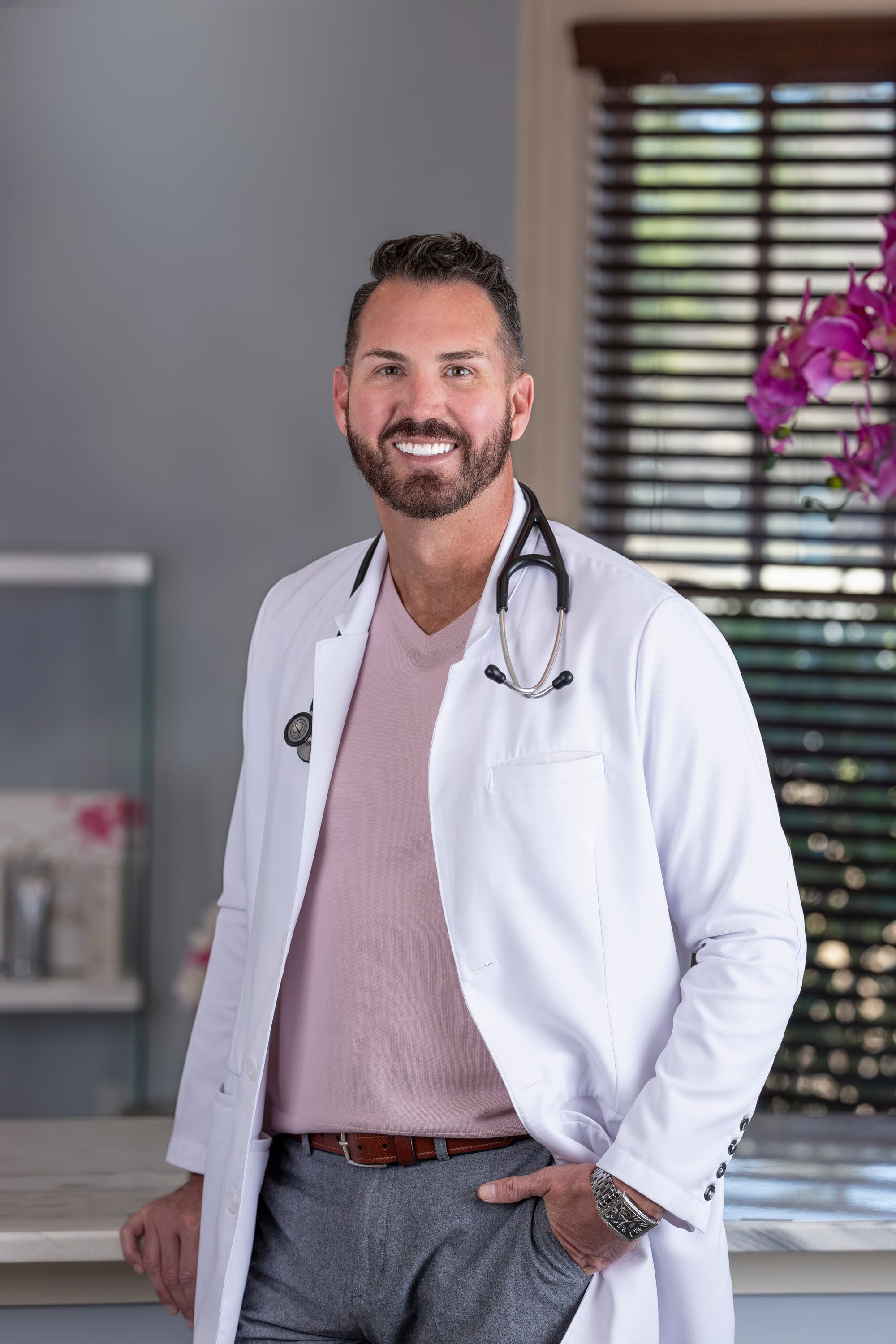 S. Heath Trowell, M.D.
Dr. Heath Trowell is Board Certified in Family Medicine and an experienced Emergency Medicine Physician.  Having a firm grasp on a variety of practice scenarios, he is highly skilled in assessing and treating acute and chronic medical problems with many modalities.  Dr. Heath is very passionate about treating patients from a holistic approach and using medication only when truly needed.  Our practice mantra is that we are "The Practice that CARES for You…Inside and Out!"  In addition to our cosmetic procedures that we perform, we take pride in listening and coaching patients through health and life challenges.
Dr. Heath has always found spending time with his patients and their families to be the most rewarding. He has learned that, in order to deliver the best care, doctors must take the time to hear their patients' full stories.  He also understands the importance of clearly, and in layman's terms, teaching patients about their medical conditions and empowering them to take an active role in their care.  It is for this reason that he and Dr. Ashley decided to reopen a private practice with this greater vision…Governors MedSpa and Concierge Medicine.  Dr. Heath and Dr. Ashley want to practice medicine in an environment where they are not rushed and can get to know their patients and their families on a personal level.
Dr. Heath Trowell is a graduate of the University of Florida with a BSBA in Finance and Insurance with Honors.  He continued at University of Florida and received a Master's Degree in International Business with a concentration in International Finance with Honors.  After working for a management consulting firm in Chicago for a little over a year, he quickly realized his passion was still to become a physician.  He received his medical degree from American University of the Caribbean in St Maarten, NA, where he also received a Masters of Medical Science degree.  After medical school, Dr. Heath spent his intern year at Columbus Regional Medical Center in Columbus, GA.  The next two years he finished his residency in Family Medicine at University of Tennessee Medical Center in Knoxville, TN.
Dr. Heath is very fitness oriented and enjoys many modalities of exercise including yoga, indoor cycling, running, swimming and High Intensity Training(HIT).  Many often describe him as having fitness ADD.  He also enjoys spending time with his wife and his two beautiful boys…that are often at some sports field or court.